Lincoln Tech Grad Receives Prestigious Scholarship Award
August 20, 2018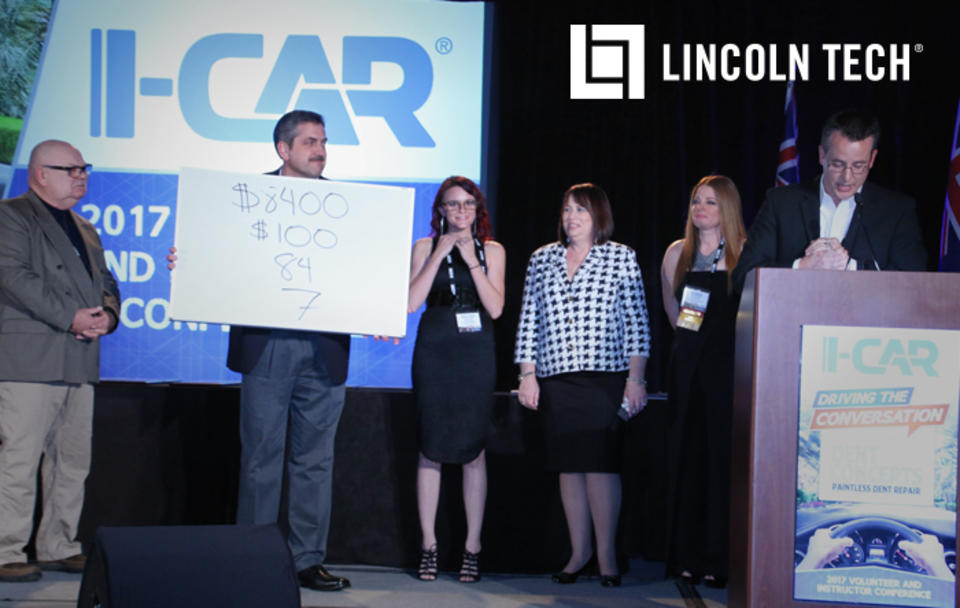 Educational foundation also erases student debt for the most talented professionals.
 As a high school senior, Destiny Potter didn't see herself attending college or trade school after graduation.  With the airbrushing background she had developed through vocational classes, she thought about going right to work and seeing where her artistic ability would lead.  That changed, though, when she applied for – and received – a scholarship from I-CAR, the Inter-Industry Conference on Auto Repair.  I-CAR's Collision Repair Education Foundation (CREF) awarded Destiny the Lon Baudoux Scholarship in 2016, and she soon found herself at Lincoln Tech's Indianapolis campus pursuing the skills that would complement her airbrushing talent and lead her to a career in body work and auto repair.
"I hadn't planned on going to college after high school," she says.  "[But] the CREF supported me and gave me opportunities I never knew were there."
The support didn't end with the scholarship.  Last year Destiny was invited to speak at the I-CAR Volunteer and Instructor Conference in San Diego, and following her speech the organization made a surprise announcement:  because she had shown such commitment to succeeding in her career as a collision repair professional, the Baudoux Legacy Fund was reimbursing her final year's tuition!
"It was such a wonderful surprise," she says.  "I tell students they should take every opportunity to learn about the collision repair industry – that's how I got where I am today."  The reimbursement she received reinforces that notion.
Lincoln Tech Training Helps Turns Skills Into Careers
Destiny graduated in October 2017 with an Associate's Degree in Service Management [link this to the new Indy Service Management Placement Rates blog] and an I-CAR Certification from Lincoln Tech, and now works as a Customer Service Manager at an ABRA Auto Body & Glass center.  "Everything I learned at Lincoln Tech helped me succeed first as an estimator at ABRA," she says.  (At just 19 years old, CREF cited Destiny as the youngest estimator in the Indiana market!)  "All of the instructors were excellent," she adds, "and their support services helped me stay the course."
She came to Lincoln Tech with a background in airbrushing, but her interest in auto work was born years earlier, when as a grade-schooler she would hang around the garage and watch her stepfather work on cars.  By the time she reached high school she'd taken an interest in "trick-out" TV shows like "Pimp My Ride," and found the field where she wanted to make her living.
In a recent newsletter article, CREF described Destiny as "an excellent example for students in [the collision repair and refinishing] industry [which] offers tremendous opportunity but struggles to connect with the next generation of employees."  According the U.S. Department of Labor's Bureau of Labor Statistics, more than 171,000 collision repair job openings are projected around the country over the next 10 years.  Median hourly pay rates topped $20 nationwide last year, with many states reaching a median wage of more than $23/hour.*
In May, Potter was also invited to speak at the Women's Industry Network (WIN) Educational Conference in Indianapolis. WIN is dedicated to encouraging, developing, and cultivating opportunities to attract women to collision repair.
"I plan to learn everything that the industry has to offer," she says.  "And to inspire the younger crowd to become active in the collision repair profession.  I'm always looking for ways to help out the industry I am in, and that is why they have me share my story at events.  I want to inspire the younger crowd to become curious about collision repair and refinishing, and to show the current partners in our industry that all they invest makes a huge difference."
Lincoln Tech congratulates Destiny on her achievements, and we look forward to hearing about the next chapter of her success story!
* Source: careeronestop.org for the years 2016-2026.