Healthcare Training - Seven Options to Insure Your Future
November 12, 2018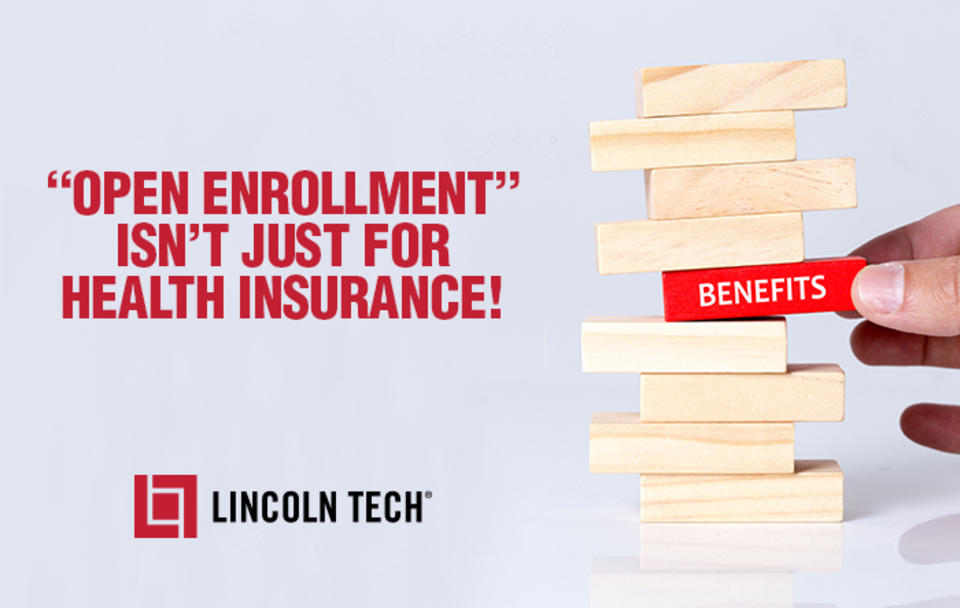 For many Americans, the start of November means the start of Open Enrollment season for health insurance.  Whether you're insured through your employer, through the marketplace, or through government programs, you're probably hearing a lot about coverage options at this time of year.  But for all of the services healthcare facilities perform, have you thought about the support professionals needed to keep them running smoothly?  What about becoming one of these pros?  Could healthcare training be your ticket to ensuring a more fulfilling future for yourself?
There are tens of thousands of positions available each year for healthcare support workers who have the training and skills that employers are looking for.*  Without healthcare training, these jobs might seem out of reach.  But Lincoln Tech campuses offer programs that help you build the hands-on skills these careers require.  Daytime and evening classes are offered so you can pursue healthcare training around your own schedule.  Here are seven fields with excellent growth potential to consider if you want to break into the healthcare industry but don't have time for Med School:
Seven Healthcare Training Options Available Now
Medical Assisting: There are more than 940,000 positions expected to open in this field over the next 10 years.  With a 29% growth rate, it's one of the country's fastest growing healthcare support roles – and states like New York, Illinois and Georgia are in the nation's Top 10.  Medical Assistants work directly with patients by collecting medical histories, updating charts, and performing simple tests in doctors' offices, clinics and other sites.
Medical Coding and Billing: Looking for an exciting healthcare career that doesn't require handling blood or getting too close to the "action," so to speak?  Coding and billing professionals are data entry experts responsible for making sure procedures are reported correctly to insurance companies.  Businesses can then be reimbursed and patients have peace of mind.  Lincoln Tech offers Medical Coding and Billing healthcare training in New Jersey – which boasts the nation's highest average pay rate for this specialized career!*
Dental Assisting: Build in-demand skills and meet interesting people – train at Lincoln Tech to become a Dental Assistant! Programs are offered for Dental Assisting in Massachusetts and Rhode Island.  Combined, those states project more than 10,000 job opportunities for Dental Assistants by 2026.*
Medical Assisting Technology and Medical Office Assisting:  More specialized healthcare training options are offered in Georgia and Pennsylvania: advance your career prospects by earning an Associate Degree in Medical Assisting Technology.  Or train to become a medical secretary through Medical Office Assistant training in Massachusetts, a state which is projected to need more than 30,000 professionals in this field over the next 10 years!*
Massage Therapy:  Feeling stressed?  So is most of the country, and that's why Massage Therapists will be in demand for years to come.  Lincoln Tech's Rhode Island campus has a reputation as being one of the area's most trusted providers of certified Massage Therapy graduates.
Practical Nursing (LPN)**:  Becoming an LPN is a great way to enter the patient-focused field of Nursing without the time and expense it takes to become a Registered Nurse.  LPNs work closely with RNs and doctors, performing rewarding, fulfilling work and assisting patients through what can often be a difficult experience.  Rhode Island and Connecticut – two states where Lincoln Tech offers career training for future LPNs – rank first and second in the country for average pay rates in the field.  New Jersey ranks fourth, and Pennsylvania is also above the national average.*
With healthcare training at Lincoln Tech, in a year or two you could be looking at the industry from a whole new angle – as a trained, employed professional working in one of the country's most exciting, intricate, and important fields.  There's no better time than now – reach out to your local campus today, and let us help you put your potential to work!
* Salary and career growth projections can be found at careeronestop.org for the years 2016-2026.  Ranks reflect comparisons among 48 continental U.S. states.  Salary information is based on median salary information collected for the year 2017.  Data is current as of September 30, 2018.​
**Lincoln Tech's Practical Nursing program prepares students for the National Council Licensure Examination for Practical Nurses, which must be successfully completed to become a Licensed Practical Nurse.