Campus Spotlight: Somerville, MA
December 18, 2018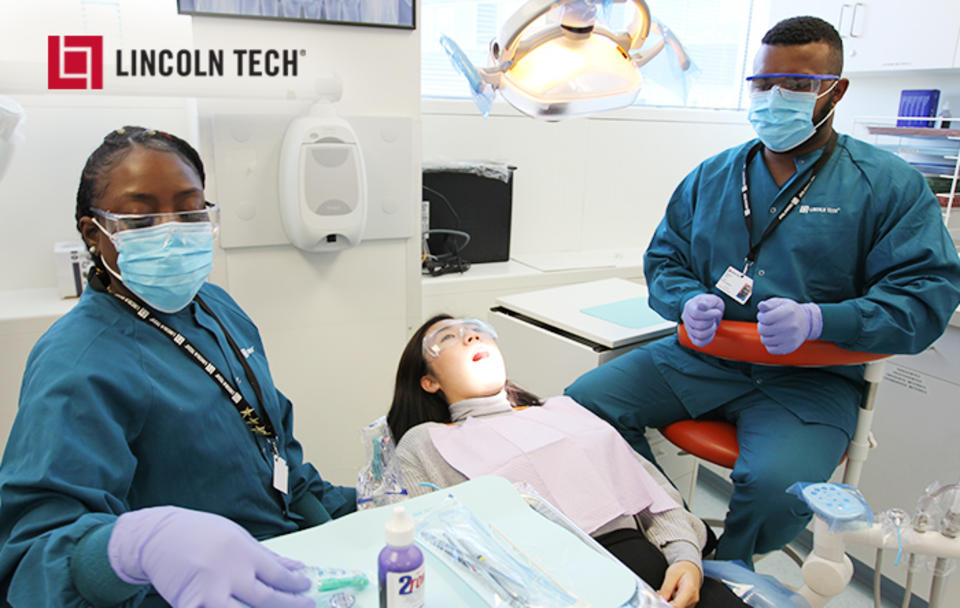 Somerville, MA – A dynamic healthcare-focused school.
Lincoln Tech's Somerville campus is located in Assembly Square, just a mile north of Boston. This area has exploded in the past few years with the addition of many new stores, restaurants and businesses. Easily accessible from Route 93, Route 1 and the Orange Line subway station, the campus is within walking distance from Sullivan Station, allowing students and staff to get to downtown Boston in minutes.
Enhanced learning environments and industry-specific classrooms such as Doctor's Office Classrooms (D.O.C.s) and wet labs are where students enrolled in  Dental Assistant, Medical Assistant and Medical Office Assistant programs experience hands-on training. Somerville has been supporting students for years in the pursuit of careers in healthcare.
Things to Know About Lincoln Tech in Somerville
Building relationships that expand hands-on training programs.
The campus recently held a ribbon-cutting event to unveil the new dental wing, sponsored by Perfect Dental. Director of Career Services Antoine Jones explains, "Perfect Dental is a valuable partner because they are involved in every aspect of success for our Dental Assistant students and graduates. This includes externships, field trips, hiring and mentoring our students."
Building more partnerships is a top priority on campus. These relationships with local companies are win-win situations. Lincoln Tech benefits from the opportunity to enhance their programs, and the companies appreciate the opportunity to hire top-notch candidates.
Convenience is everything. For added flexibility, Somerville offers Medical Assisting and Medical Office Assisting with blended learning options. This gives students the chance to complete some of their course work online from home - meaning they can plan their career training around current work schedules, allowing them to spend more time with their family and less money commuting!
Location, Location, Location.  Due to their close proximity to Boston, the Somerville campus is considered a trusted resource for area employers searching for qualified candidates. Some of the top employers of Somerville graduates include: Massachusetts General Hospital, Avalon Dental, Tufts Medical Center, Dana Farber Cancer Institute, Partners Healthcare, Greater Boston Internal Medicine, North Shore Cataract & Laser Center, Columbia Family Dental and more.
Ambassador Club. As leaders of the student body, this small group of top students gather feedback from their peers periodically.  They present their findings to the Campus President and Director of Education for purposes of improvement, idea sharing and cultivating a positive, motivating campus. They also hold campus fundraisers to contribute to the student fund that include "Taco Tuesdays" and various holiday related events. In order to apply to be an ambassador, students must have completed one module, have at least 85% attendance, a 3.5 GPA and faculty recommendations.
Yankee Dental Congress. Every year in January, Dental Assisting students attend the Yankee Dental Congress in Boston, the best source in New England for industry professionals on the cutting-edge of oral healthcare. This two-day event is a unique blend of tradeshow and educational forum, and is the fifth largest dental conference in the country. Some 30,000+ visitors get to visit with more than 500 exhibitors.
Where the jobs are.  In the next ten years, Massachusetts is projected to add more than 17,000 Medical Assistants, over 31,000 Medical Office Assistants and more than 9,000 Dental Assistants.*
If you're looking for a career that offers the opportunity to be a vital part of a medical or dental office, a career that allows you to bring your compassion to work every day, Lincoln Tech's Somerville campus has a training program for you.  Schedule a campus tour today and learn how this school can help you put your potential to work!
* Career growth projections can be found at careeronestop.org for the years 2016-2026.  Ranks reflect comparisons among 48 continental U.S. states.  Salary information is based on median salary information collected for the year 2017.  Data is current as of September 30, 2018.