Lincoln Tech in Somerville MA Inaugurates New Dental Assisting Program
August 6, 2014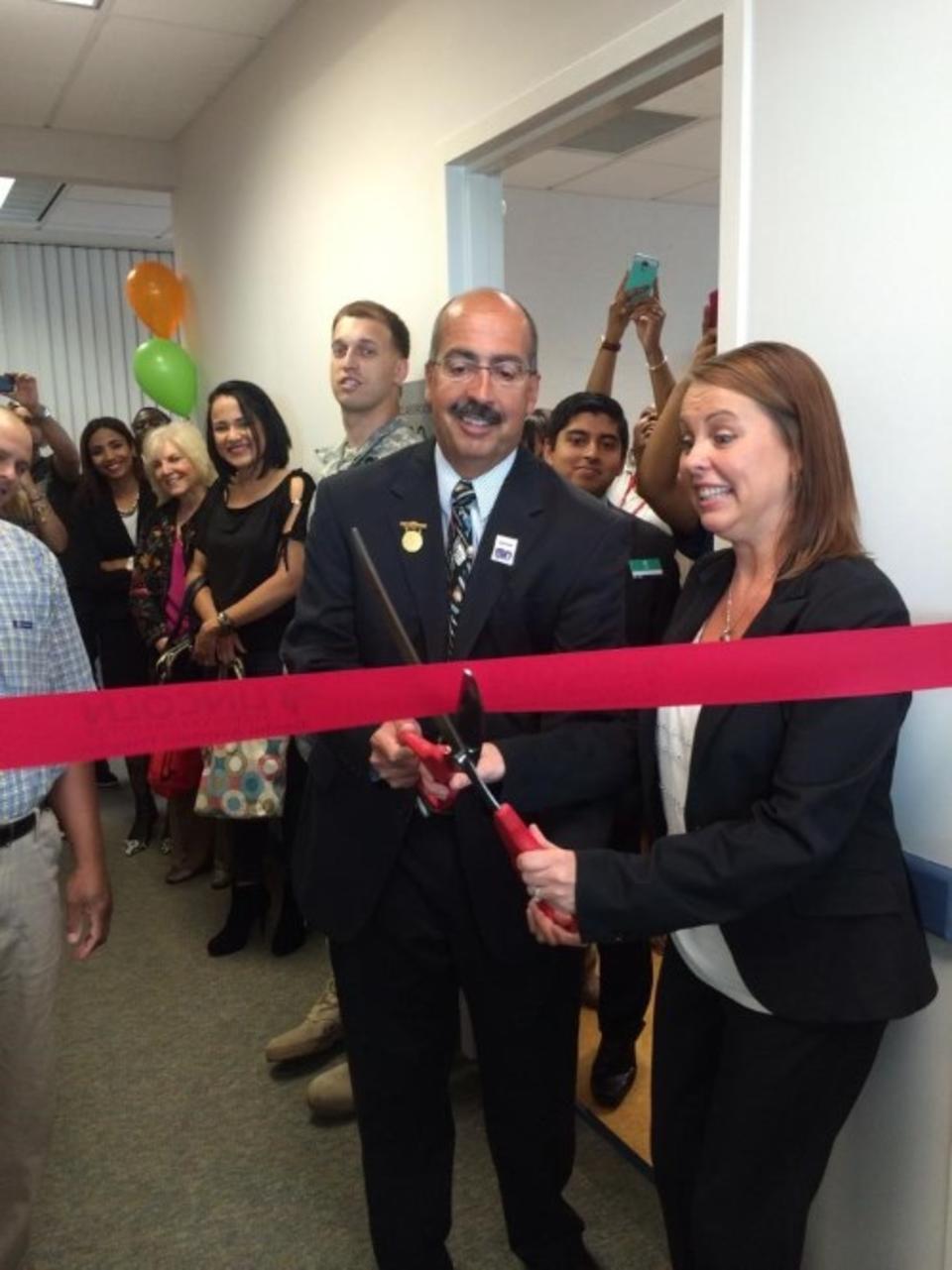 Somerville Campus President Laurie O'Malley and Massachusetts Dental Society President Anthony Giamberardino, DMD cuts the ribbon on Lincoln's newest Dental Assisting program.
With job opportunities for Dental Assistants projected for double-digit growth in Massachusetts between 2010-2020*, there's never been a better time to train for a career in this healthcare field! Lincoln Technical Institute in Somerville, MA proudly kicked off its new Dental Assisting training program July 22nd with a ribbon-cutting ceremony, campus tours and more.
"This event was a great opportunity for members of the community to visit our campus and see what we're all about," said Campus President Laurie O'Malley. "Many of our local businesses hire and support our graduates, so chances are everyone in town knows someone, or knows someone who knows someone, that went to Lincoln!"
Following the ceremony, Lincoln and DJ Pup Dawg of JAM'N 94.5 welcomed Neighborhood Health Plan, Citizens Bank, members of the U.S. Army and more to campus to commemorate the new program option.
"Dental Assisting careers are hands-on and patient focused – you're helping to promote better oral care and overall health for your patients," said Director of Admissions Kerrin Miniutti. "Training for a career as a Dental Assistant is an excellent first step toward the exciting, rewarding field of healthcare!"
Dental Assistants work side-by-side with dentists and patients to ensure procedures are performed smoothly, efficiently and comfortably, and are employed at sites such as private practices, public clinics, pediatric offices, and orthodontic practices. Lincoln training for Dental Assisting careers includes hands-on experience in Dental Chairside Assisting, Dental X-Ray, Laboratory Techniques and much more!
Students build their skills on patient simulator manikins (Typodonts) to practice safety measures, infection control techniques, and more, and use lab materials to make prosthodontics like temporary crowns and bridges. In addition, graduates are prepared to sit for the Radiation Health and Safety (RHS) and Infection Control (ICE) portions of the Certified Dental Assistant (CDA) exam.
Lincoln Technical Institute now offers Dental Assistant training at all three of its Massachusetts campuses – Brockton, Lowell, and Somerville. Visit our dental assistant program page to learn more about this exciting new career training opportunity!
* Source: careerinfonet.org