Car Hood Art Showcases Students' Talents
May 24, 2017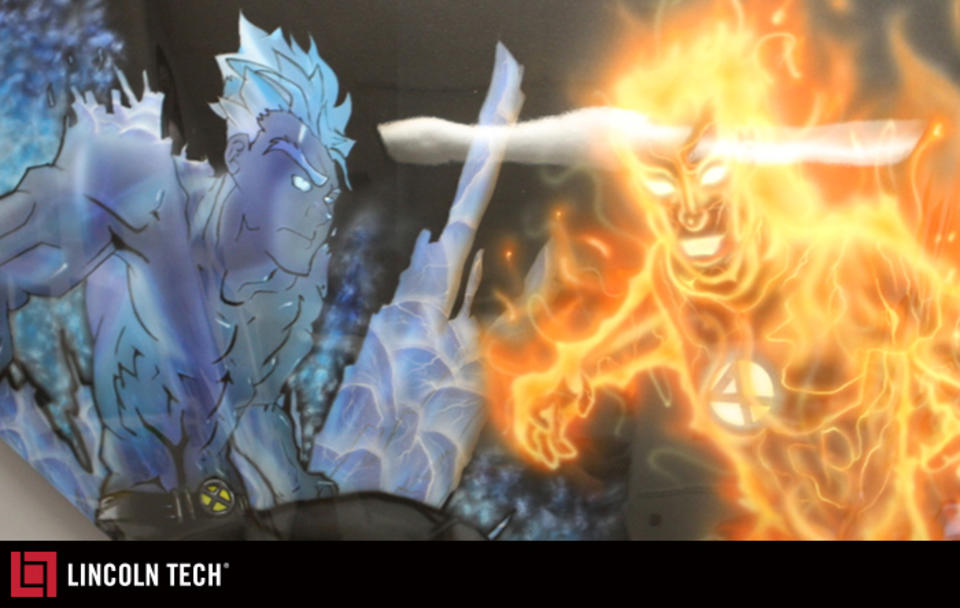 Check out these car hood art masterpieces from the Lincoln campus Hood Galleries!
For more than 50 years, Lincoln Tech campuses around the country have been the schools of choice for students who want to turn their love of auto body work into rewarding, exciting careers. Collision Repair and Refinishing Technology has come a long way since the days of just hammering out dents or taking a bottle of touch-up paint to the garage. Computerized alignment equipment, paintless dent repair techniques, and high-precision airbrushing tools have transformed the industry into a field where you need specific hands-on skills to get ahead. And these days, adding a unique artistic touch through the creation of car hood art is a big plus!
As part of its training program, Lincoln Tech introduces students to the latest custom paint design techniques to help them get a head start on the road to a career in the growing collision repair industry. Take a look at some of the eye-catching artwork on display at Lincoln Tech collision repair campuses!
Denver, CO
Since 1963 the Denver, CO campus has attracted students from around the country who want to launch collision repair and refinishing careers.
East Windsor, CT
Artwork created by
East Windsor
, CT students includes team pride, an intricate spider web, the hood of the famous
Batman Car
, and more.
Indianapolis, IN
Indianapolis collision repair students went "beast mode" for this display of refinishing skills.
Melrose Park, IL
Supported by partnerships with industry leaders like Service King, Akzo Nobel and the Erie-LaSalle Body Shop, the Melrose Park collision repair program has graduated some truly gifted airbrush artists!
Nashville, TN
Students from Nashville, TN celebrate the NADC tradition and promote an important message in the campus Hood Gallery.
Qualified collision repair technicians are in demand: candidates with the skills to make cars not only run like new but look like new can turn a hobby they love into a job, a paycheck, and a career. Start a career where success comes with a creative flair – check out Collision Repair and Refinishing Technology training at a Lincoln Tech campus today!