LINCOLN IN THE NEWS

"Union Campus Granted HVAC Excellence Accreditation"
FEBRUARY 28, 2012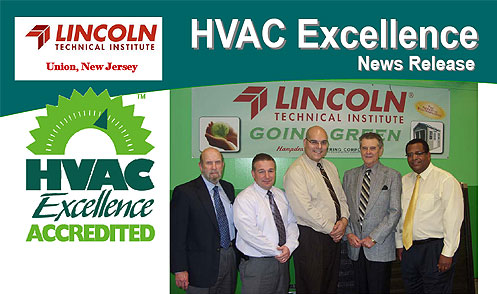 Lincoln Technical Institute in Union, New Jersey has been granted a six year HVAC excellence accreditation of their Heating, Ventilation, Air Conditioning and Refrigeration (HVACR) program. Lincoln Technical Institute wanted to validate that they were preparing their students for the ever changing challenges in HVACR industry. To accomplish this, they decided to pursue accreditation of their HVACR program. Programmatic accreditation is where an independent third party, reviews a program against set educational and industry standards. In the HVACR industry accreditation is conducted by HVAC Excellence.
In seeking accreditation, the staff at Lincoln Technical Institute completed a self study evaluation of their program against set standards in: curriculum, faculty, student facilities, placement services, financial aid and advisory committee involvement, training facilities, equipment & safety. The self study once completed was sent to HVAC Excellence for their executive team to thoroughly assess for compliance against each standard. Upon completion of their review, HVAC Excellence selected a group of industry veterans with combined technical , administrative and teaching experience in the HVAC industry to validate the self study through an intense review of the program.
Lincoln Technical Institute Granted HVAC Excellence Accreditation
Having reviewed the self study and evaluated the program, HVAC Excellence decided to grant a six year accreditation of the Lincoln Technical Institute program. The final determination for the program included a large number of commendations. This should come as no surprise to those familiar with the program, as quality education begins with quality instructors. "Mr. Luis Vendrell education supervisor of the HVACR program is an asset to the school, the community, the HVACR industry, and the students he serves. " Stated Thomas Tebbe, National Programs Director for HVAC Excellence. The title of Certified Master HVACR Educator (CMHE) is the highest credential that can be conferred upon an HVACR educator. While thousands of test have been administered throughout the United States and Canada, only thirty two instructors have passed all of the exams necessary to have the title bestowed upon them. Lincoln Technical Institute in Union, NJ is fortunate enough not to have one of them on staff, but to have two of them. Mr. Richard Pasnizk and Mr. Glenn MacNamara are both
Certified Master HVACR Educators.
The HVAC Excellence Accreditation of the Lincoln Technical Institute HVACR program validates that their programs has the necessary resources to successfully prepare students for jobs in the HVACR industry, they have the needed resources and administrative support to accomplish their goals. Some of the benefits of HVAC Excellence HVACR programmatic accreditation include: students can have more confidence in the HVACR program, employers have the assurance that the graduates are properly trained, creates goals for self improvement, can assist the students in the acceptability of transfer credits and it involved the faculty in the evaluation process. The United Association of Apprentices and Journeyman (UA) recognized the benefits of the accreditation and has made a commitment to recruiting HVACR technicians from schools with HVAC Excellence credentials as a top priority. The UA has an articulation with HVAC Excellence that provides graduates advanced placement into the UA apprenticeship programs. Lincoln Technical Institute in Union, NJ is part of the Lincoln Educational Services Corporation a provider of career‐oriented post‐secondary education. They operate 31 campuses in 15 states offering degrees and diplomas in five areas of study to nearly 30,000 enrolled students. To learn more about this nationally recognized program at Lincoln Technical Institute call (908) 964‐7800 or visit them online at
www.lincolntech.com
The Green states in the map indicate HVAC Excellence accredited programs as of December 2011
In the 1990's technology was advancing rapidly and states began to question if their programs were keeping up with technology. The Tennessee Board of Regents, mandated all career and technical education programs achieve third party accreditation. The Board of Regents contacted many HVACR industry groups only to discover that no such standards existed nor had an accrediting body ever been established. HVAC Excellence established the national standards for HVACR programs in the summer of 1999 and the industries first accrediting body. About Accreditation Programmatic accreditation is an independent third party review of a program against a set standards. HVACR programmatic accreditation reviews: Curriculum, Faculty, student Facilities, Placement Services, Financial Aid, Advisory Committee Involvement, Training Facilities, and Equipment & Safety. Programmatic accreditation validates that a program is preparing students for jobs in the HVACR industry and verifies that the program has the needed resources and administrative
support to accomplish their goals.
In seeking accreditation, the staff of a program must complete a self study evaluation of their program to demonstrate how they meet the standards. Executive members of HVAC Excellence thoroughly assess the self study. Upon completion of their review, HVAC Excellence selects a group of industry veterans with combined technical, administrative and teaching experience in the HVACR industry to visit the campus and validate the self study through an intense onsite evaluation. Benefits of Accreditation Some of the benefits of HVACR programmatic accreditation include: student confidence in the HVACR program, employers assurance that the graduates are properly trained, creates goals for self improvement, assist the students in the acceptability of transfer credits, and it involves the faculty in the evaluation process. To find out more about HVAC Excellence
Accreditation, visit www.hvacexcellence.org
RETURN TO LINCOLN IN THE NEWS